History of Fornells
Related pages: Ecomuseum in Cavallería , Fornells , Menorca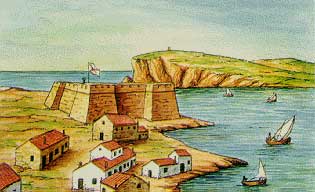 The founding of the village of Fornells was closely linked to the need to fortify and defend its bay which was constantly attacked by pirate ships. In the 16th century there existed only one 'atalaya' (watchtower) from which it was possible to observe the numerous shipwrecks such as that of the aragonese ship Santisima Trinidad in 1590.
The poor defensive position of the port of Fornells led to the decision to build a fortress similar to that of San Felipe in Mahon, according to the Royal Information Report of 1558. On the 5th June Don Antonio Saura, engineer and master craftsman of the Kingdom of Mallorca laid the first stone of the castle, dedicated to the memory of St. George. Due to financial problems, works extended over twenty years.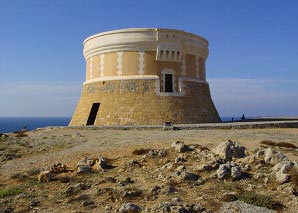 Documents dated in 1648 refer to the existence of an outlying area (district) around the construction, the nucleus and germ of the future village. In it lived the masons, carpenters and other handicraftsmen together with their families. The construction of the castle of Sant Jordi was completed in 1662, including stone ramparts, four bastions and a moat. In 1671 a garrison of forty men under the command of Don Juan Ervas was assigned to it. Today the castle is known as Castle of Sant Antoni and is currently being rebuilt.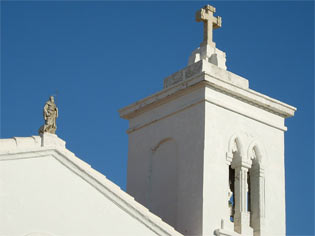 The church was built in 1872. According to the commemorative tablets over the main door, it was built by private donation from King Carlos IV. In 1877 Fornells became independent of Mercadal. Information about the Fornells population is recorded in the parish archives. We are thus aware that in 1826 the total population of Fornells was 286 people and the most common profession was that of fisherman. Due to its location on the north coast of the island, and being exposed to strong north winds (Tramontana, Gregal and Mistral), Fornells has been both the victim and the spectator to the many shipwrecks which are documented in the Church records.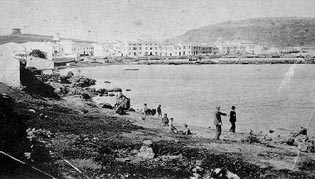 In 1867, owing to bad weather, a French ship entered the port and the crew spent a few days in the village. To show his gratitude for the villagers hospilatity, the captain gave them a bronze bell which has since disappeared. Bishop Mercader visited Fornells in 1867 in order to enquire about a shipwreck in which three Fornells fishermen, who worked between Cala Barril and Binimel-là, had disappeared. The following year two further fishermen disappeared - sadly, this happened frequently.
Menorca is considered to be an open air museum due to the many historical and archeological sites that can be visited. All the people and cultures have left their imprint on Menorca and have melted together to produce an own, unmistakeable character that makes Menorca so different from any other island of the Mediterranean Sea. You will discover it in the architecture, the gastronomy, its people and customs. We hope you enjoy it.